Our company deals with production and distribution of roadside delineators and all accessories. In addition to that, our specialization is a custom plastic production and production of special road signs.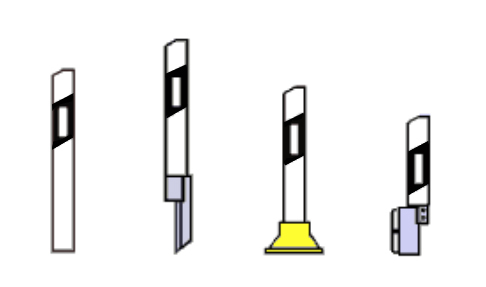 We manufacture and supply roadside delineators with CE certificate. We produce road delineators in a classical design as compact and installed, equipped with plastic reflectors or a retroflex foil. We also manufacture flexible delineators.
Our roadside delineators are certified according to EN 12899-3. Apart from customers from the Czech Republic, our traditional customers are from Germany, Austria, Slovakia, Poland and Hungary. We also produce other variants of roadside delineators according to customer requirements.
Flexible Delineator Posts
(PDF)
Highway Delineator Posts
(PDF)
Delineator with snow pole
A new product of the road marking manufacturing section is the delineator with a snow pole. It is a roadside delineator with a snow pole integrated into the profile of the delineator, which ejects in the winter and remains covered in its cavity in the summer.
The delineator with this unique CLIP system enables the ejection of the pole up to 1 meter above the delineator. The pole is fitted with retroreflectors. The need to store the snow poles is eliminated. The product is certified according to EN 12899-3.